Commercial Roof Inspections and Assessments
It's highly recommended that your roof is inspected and maintained at least twice a year to maximize roof performance and longevity.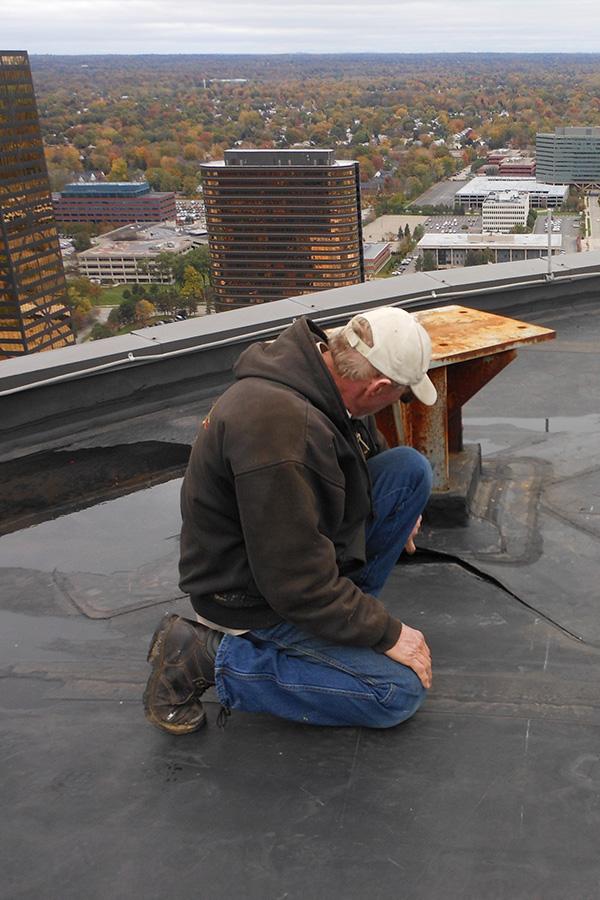 Be proactive, not reactive.
The Bloom Roofing roof inspection program is designed to maximize your roof's performance. Our program will help reduce roofing expenditures by providing a detailed commercial roof inspection including an end-report with photographic documentation, drawings, and roof condition analysis.
Enhanced Commercial Roof Inspections
Ensure Proper Roof Drainage
We thoroughly inspect your drainage systems including roof drains, scuppers, gutters and downspouts to make sure they are clear and free flowing. Drainage back ups are some of the most common yet harmful roof hazards we encounter.
Clear All Debris Off of Roof
Before inspecting the overall field membrane and condition of your roof surface, we clear all debris off of the roof including trash, discarded and obsolete equipment, leaves, and vegetation to ensure we do not miss a single inch during our inspection.
Inspect All Roof Penetrations
External units that are independent and connect to a roofing system are common weak points and can lead to major issues if not inspected carefully. Common roof penetrations that we examine are pipes through the roof, conduits, wires through the roof, roof curbs and rooftop mechanical units (inside and out).
Check For Damage to Field of Roof Membrane
The field membrane is the actual roof surface itself – it is imperative that the condition of the membrane be examined to ensure that your roof will last the cold and harsh winter months. Snow buildup and other hazardous weather elements can quickly deteriorate the field membrane if not properly inspected. We search for splits, tears, holes, loose membrane and other signs of wear and tear.
Inspect All Perimeter Flashing
Perimeter flashing helps direct the flow of water around the edges of your roof. Its condition is a vital component for a roof's lifespan. Small flashing issues don't always stick out to a non-professional. These can look normal but lead to deterioration of your roof in the long run. We inspect for tears, splits, holes and loose membrane located near your building's perimeter flashing.
We perform a sealant maintenance check that takes inventory of the condition of sealants near mechanical equipment, termination locations, pipes and conduits through the roof, pitch pans and copings. Sealants are one of the last lines of defense to ensure your roof can stand up to both harsh weather and the test of time.
After the 126-point inspection is completed we provide a thorough analysis on the current state of your roof and provide suggestions on how to maintain and improve the lifespan of your building's roof. We understand that there are budget expectations that need to be met and we work with each client to provide multiple roadmaps for attaining maximum rooftop longevity.