YEAR COMPLETED:

2012, 2013

ROOF AREA UPDATED:

255,394 Sq. Ft.

TYPE OF SYSTEM:

Adhered TPO
Meijer, Inc. is one of the largest supermarket chains in North America with more than 200 locations spread throughout the U.S. In 2012 and 2013, Bloom Roofing worked with Meijer to replace an Adhered TPO roofing system on the company's Tipp City distribution facility outside of Dayton. The 178-acre distribution complex sits at the center of Meijer's Midwestern network and is vital to the company's logistics and operations. Recognizing the food and perishables stored in the facility, Bloom Roofing worked diligently to ensure the building's interior was 100% protected while installing a custom Adhered TPO system that spanned across 255,394 Square Feet.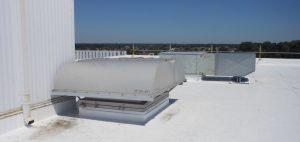 Bloom's commitment to excellence and providing high-quality commercial roofing solutions has lead to many reputable partnerships, including our relationship with Meijer. Since the 1980s, we have completed more than a dozen commercial roof replacements, installations, and repairs for Meijer facilities throughout Ohio, Michigan, and other Midwest states. That's because at Bloom Roofing, our consistent, best-in-class commercial roofing services maximize roof performance, energy efficiency, and your peace of mind. Just look at the more than 2,000,000 square feet of roofing we've installed for Meijer.
Looking for worry-free commercial roofing in the Dayton area? Contact Bloom Roofing's team of experts here.