YEAR COMPLETED:

2010

ROOF AREA UPDATED:

62,119 Sq. Ft.

TYPE OF SYSTEM:

Adhered TPO
The Accident Fund Insurance Company of America is an industry-leading workers' compensation insurance company headquartered in the renowned Ottawa Street Power Station building in Lansing, Michigan. In 2007, Accident Fund decided to purchase the 1.35 acre facility and redevelop the building into the company's corporate headquarters. Located directly off of Lansing's Grand River, the building offered a great location, though the former power generating station needed extensive renovations to become a suitable office building. Working with some of Michigan's most prestigious construction and architecture companies, Bloom's commercial roofing expertise helped to repurpose the inactive power station as one of Lansing's most beautiful office buildings.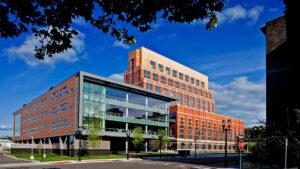 The 9-story, 176-foot tall power station was initially built in 1939, thought it was mostly unused since 1992 and required strict safety measures during the roof replacement. As one of the most unique buildings in Lansing, commercial roofing required significant planning and care. While the height of the building alone posed unique challenges for roofing work, the building also featured dozens of balconies that required extra safety precautions. Maintaining the beauty of the original Art Deco-style design, Bloom's team installed a mechanically fastened TPO roofing system across more than 60,000 square feet of the building's roof.
In the end, the building renovation preserved the history of the Ottawa Street Power Station, which was listed on the National Register of Historic Places in 2008. The building serves Accident Fund Insurance as one of the most unique, prestigious, and beautiful workplaces in Lansing, and the building redevelopment garnered an array of awards, including:
AIA Michigan – Honor Award
Construction Association of Michigan – Green Project of the Year
Engineering Society of Detroit – Construction and Design Award
International Economic Development Council – Excellence in Economic Development
Michigan Historic Preservation Network – Design Award
Michigan State Housing Development Authority – Governor's Award for Historic Preservation
National Institute of Building Sciences Sustainable Buildings Industry Council – Beyond Green High Performance Building First Place Honor Award for a Historic Reuse
National Trust for Historic Preservation – Richard H. Driehaus National Preservation Honor Award
Urban Land Institute – Global Award for Excellence
Looking for an award-winning commercial roofing partner in Lansing? Contact Bloom Roofing's team of experts here.